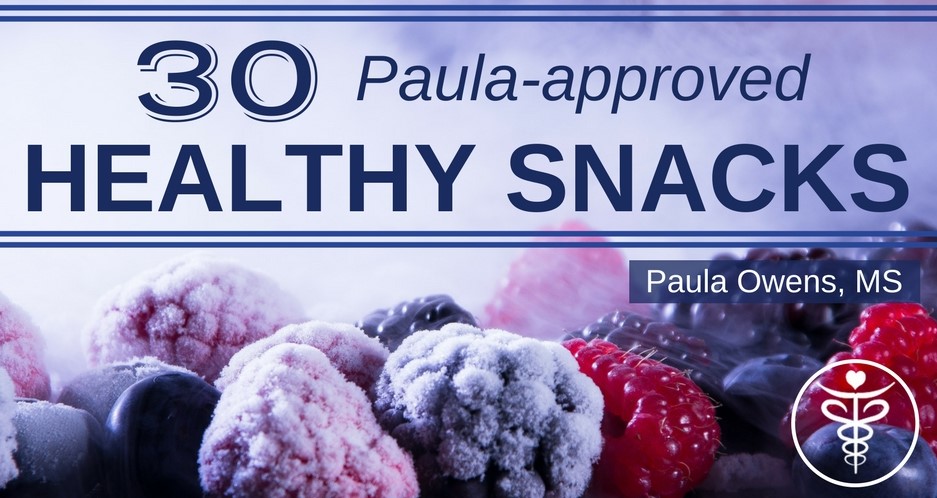 30 healthy snacks or mini meals (Fat Loss Revolution style) that will give you lasting energy, fill you up, fuel your brain, keep you satisfied and stabilize your blood sugar! Kids will love these too! Many of these snacks or mini-meals are easy-to-pack, quick-to-make, and perfect for when you're traveling—and, they're Paula-approved!
30 Healthy Snacks
—1. Thin-sliced chicken or turkey with hot mustard wrapped around 2-3 stalks of steamed asparagus or baby broccoli with a slice of avocado or grass-fed, organic raw cheese
—2. Cumin Crunch Trail Mix or Sweet & Salty Trail Mix (Lark Ellen Farm brand)
—3. An avocado with freshly squeezed lemon or lime with a sprinkle of Celtic sea salt
—4. Spicy chipotle pistachios and pumpkin seeds with a sweet potato or yam (cooked, cooled and sliced)
—5. Wild-caught sardines with the bones (an excellent source of omega-3, protein and calcium) — travels well!
—6. Roasted cauliflower (olive oil, Celtic sea salt, and paprika)
—7. Sweet tooth favorite: frozen organic berries with organic heavy whipping cream and raw cacao nibs
—8. Sweet tooth favorite #2: Chocolate Avocado Pudding
—9. Organic chicken breast, sliced avocado and pomegranate seeds rolled up in a chard leaf or collard green leaf
—10. Truffle Roasted Walnuts (walnuts dusted with dark cacao powder)
—11. Bison, beef, chicken, turkey or salmon jerky
—12. Cocoa Mocha Smoothie: your favorite chocolate protein powder plus one tsp. cocoa or raw cacao nibs, one cup strong organic coffee, water, small amount of heavy organic cream and ice blended in Vitamix or a high-powered blender
—13. 6-8 selenium-rich Brazil nuts with 1 oz. dark chocolate or two handfuls of macadamia nuts with crystal ginger pieces
—14. Olive oil-based cilantro jalapeno hummus with sliced cucumbers and carrots
—15. Grass-fed, organic, full fat cottage cheese with fresh organic pineapple and macadamia nuts
—16. Sliced apple, pecans or walnuts, cinnamon, red onion (chopped), celery (chopped) mixed in grass-fed organic plain yogurt
—17. Love your liver beet smoothie or green power smoothie blended in Vitamix or high-powered blender
—18. Red Curry Coconut Soup – Recipe
—19. GMO-free, gluten-free Mary's Gone Crackers or Flackers with homemade guacamole, goat cheese, or almond butter
—20. Piece of 70% dark chocolate dipped in coconut oil and shredded coconut
—21.  Hardboiled eggs (if you're not sensitive to eggs) or avocado deviled eggs topped
—22. Celery with raw cashew butter, almond butter or peanut-free Nuttzo
—23.Grainless Granola (PaleoKrunch) mixed with berries and grass-fed organic plain yogurt
—24. Potent cup of tea (green tea, white tea, Tulsi tea, Cistus tea, Jasmine green tea or Yerba Mate Royale) hot or iced
—25. Small bison burger with sliced avocado and pico de gallo wrapped in a large Romaine lettuce leaf
—26. Homemade kale chips, iodine-rich SeaSnax or Alive Radiant Veggie Crunch
—27. Full fat organic, grass-fed yogurt with sprinkle of ginger and cinnamon
—28. Organic chicken apple sausage  wrapped in coconut flour pancake or Birch Benders Paleo Pancake
—29. Bacon wrapped dates
—30. Thai spring rolls – recipe
Related Posts and Recipes