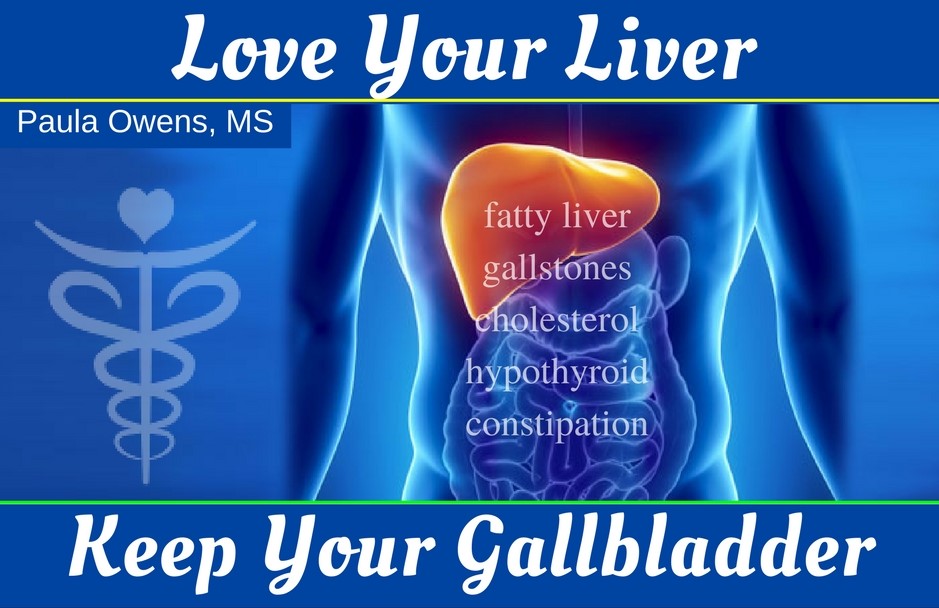 Your liver
performs over 500 functions including detoxification, excreting and burning fat, protein synthesis, and producing bile to aid in digestion and emulsifying fats. The liver filters, regulates and stores blood. It's the storage site for many essential vitamins and minerals such as iron, copper, B12, vitamins A, D, E and K. The liver plays an important role in metabolism, digestion and healthy hormones, including the thyroid.
The gallbladder is a pear-shaped organ that is located directly beneath the liver. The gallbladder functions as storage place for bile, a fluid made by the liver that helps to digest fats. Bile is released from the gallbladder, and mixes in the stomach and intestines as food is broken down through digestion. The gallbladder functions to process cholesterol, clean all tissues, helps digest fats, and enhance brain function. The gallbladder's job is dependent on a healthy functioning liver (it's paired organ) ensuring a smooth flow of Qi (energy).
The Standard American Diet of fried foods, sugar, fructose, grains and processed junk foods cause bile to become saturated with cholesterol triggering cholesterol to form solid crystals, accumulating into gallstones. A sluggish, congested liver is often associated with gallstones.
Nearly 500,000 gallbladders are removed annually! Many doctors recommend gallbladder removal when gallstones are present, however please be informed: gallbladder removal comes with consequences and serious health complications can arise including brain fog, hormone imbalances, brittle hair, dry skin, several nutrient deficiencies, weight gain, loose stools, impaired digestion and more. Surgery is not a walk in the park either with 40% of post cholecystectomy patients still having symptoms of nausea, pain, gas, bloating, IBS, scarring, digestive problems, and food sensitivities and food intolerances afterwards. Once the gallbladder is removed, the ability to store bile in the gallbladder is lost, and bile continually flows through the bile ducts into the small intestine. The ability to emulsify, digest and absorb dietary fat is drastically reduced when the gallbladder is removed placing more stress on the liver.
99.9% of all gallbladder attacks are caused by food sensitivities.
Those with gallbladder dysfunction (including those who have have had their gallbladder removed) tend to have food sensitivities to eggs, casein, dairy, soy, onions, pork, wheat and gluten, and do best avoiding these items.
Traditional Chinese Medicine Clock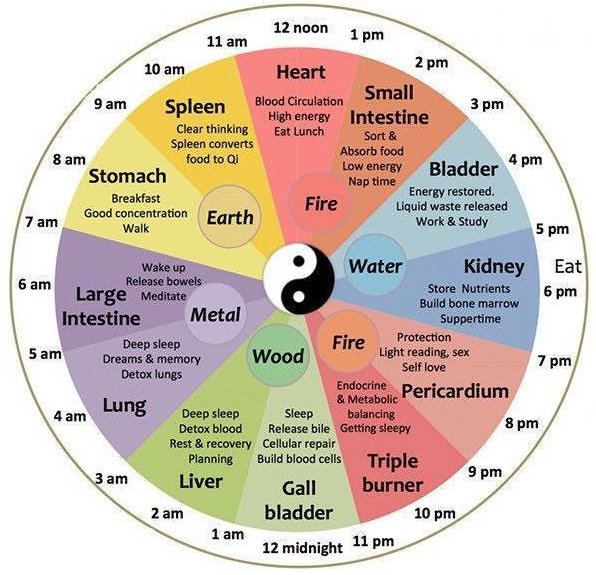 According to traditional Chinese medicine (TCM), specific organs have a two hour time period when the Qi (energy) is at its peak in that meridian.
The gallbladder meridian is most active between the hours of 11 p.m. and 1 a.m.
The liver meridian is most active between the hours of 1 a.m. and 3 a.m.
Consistently waking during these hours may be an indication that the gallbladder or liver is out of balance. When the energy of a meridian is not flowing well due to a block such as unhealthy eating, toxic overload or stress, you'll experience a sign or symptom from the meridian(s) involved.
What Triggers Gallbladder Problems?
Symptoms of Gallbladder Dysfunction and Sluggish Bile
Hypothyroidism is 7x more likely in people who experience reduced bile flow. –Finland study conducted at Tampere University Hospital
Is Your Liver Congested? Diabetes, viral infections of the liver (hepatitis), alcoholism, overeating, undernourished and malnourished, ongoing exposure to harmful chemicals, heavy metal toxicity, obesity, recreational, OTC and prescription drug use, consumption of fructose and trans fats, repressed anger, and chronic stress impact liver function.
As you can see from the lengthy list above, the healing protocol will vary depending on each individual's unique biochemistry.
Non-alcoholic Fatty Liver Disease (NAFLD)
Nonalcoholic fatty liver disease (NAFLD) is the most common chronic liver disease in the U.S. One-third of the population suffers from NAFLD, and many are completely unaware of it. (Polyzos et al 2010, Schuppan et al 2010, Younossi 2008). It's estimated that 70–80% of obese individuals have NAFLD.
NAFLD is a condition in which fat accumulates in the liver cells in individuals with minimal or zero alcohol intake. It often goes undetected for years, and may eventually progress to liver inflammation, cirrhosis, liver cancer or full-blown liver failure.
Risk factors for non-alcoholic fatty liver disease
The liver is involved with digestion, the hormone system, blood sugar regulation, protein and fat metabolism. Many metabolic issues stem from liver dysfunction. When the liver becomes overloaded, congested and damaged, it's ability to detox is compromised.
Symptoms and Conditions of a Congested Liver
Emotional connection
If you wake up consistently during the night at the same time, or become exhausted at the same time every day in the afternoon, look at the meridian that's active during that time.
The emotions that corresponds with the liver and gallbladder meridian include frustration, anger and resentment. Deep-seated anger increases risk of heart attack by 230 percent! (Mittleman et al, Circulation, 1995, vol 2). The liver is the most emotion sensitive organ and its weakness is often connected to emotional sensitivity.
The key responsibilities associated with the gallbladder and liver are decision making, determination and action.  The liver controls ability to plan one's life, while the gallbladder controls the capacity to make decisions.
Natural Remedies for a Healthy Liver & Gallbladder
Food is Medicine for a Healthy Liver & Gallbladder
Exercise tips for a Healthy Liver and Gallbladder
Lifestyle tips for a Healthy Liver and Gallbladder
Chinese Medicine reminds us that the emotions related to an unhappy liver and gallbladder are anger, frustration, pride and resentment. Embrace and engage in a process of emotional healing.
Nutrient support for a Healthy Liver and Gallbladder
As with all nutritional support, it's not a one-size-fits-all approach. Schedule a consultation to determine your personal protocol unique to your biochemistry.
Related Posts